Blake Shelton & Adam Levine Cover People Magazine
Looks like The Voice might have been one of the smartest decisions Blake Shelton has made in his career so far. He shares the cover of People magazine with fellow Voice coach Adam Levine – even bumping out Jessica Simpson's baby shower news for the top spot!
They share secrets, or not-so-secrets, on their friendship in the issue, including what they think of fellow coach, and often banter target, Christina Aguilera.
"A few weeks ago somebody asked me, 'What about you and Adam's bromance. Is there anything to it?' " Shelton, 35, tells PEOPLE in this week's cover story.

"And I sputtered off, 'Yeah, I'm going to make out with him.' The next thing you read is, 'Blake wants to kiss Adam.' Man, I can't believe how …"

"True that is?" interjects Levine, 33.
The two admit that they never thought they'd get as close as they have with each other. They've even been out on double dates with Blake's wife, Miranda Lambert, and Adam's supermodel girlfriend Anne V. There's only one thing the pair want to settle once and for all with their fans:
Stop using the word "Bromance." "Can we please kill that stupid term?" he asks. "We're just friends. It's called friendship!"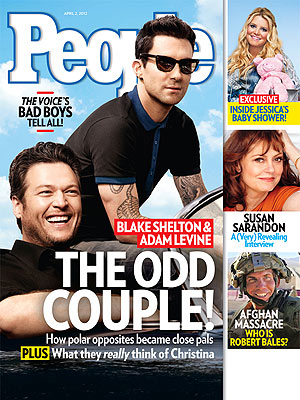 Find out everything on their friendship in the new issue of People magazine, on newsstands Friday.
The following two tabs change content below.
A 26 year-old Canadian girl currently living in England for a culinary career. Fell in love with country music and cooking at a young age, and looks for a way to do both.
Latest posts by Lydia Picknell (see all)